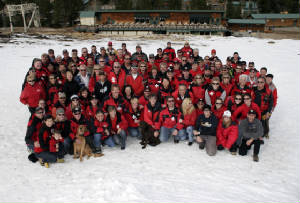 About China Peak Volunteer Ski Patrol
China Peak Ski Patrol is an organization of approximately 85 dynamic, vibrant and self-motivated volunteers who are trained in First Aid, Outdoor Emergency Care, CPR and winter rescue. We are a part of a larger international organization, the National Ski Patrol.
The National Ski Patrol (NSP), founded in 1938 by Charles M. (Minnie) Dole, has followed its creed of "Service and Safety" since the establishment of skiing as a popular sport in the United States. The NSP has become the largest winter rescue organization in the world. It is composed of more than 26,500 members serving over 600 ski patrols. The NSP represents 98% of the nation's patrollers.

We combine our first aid training and skiing/snowboarding skills to serve the Ski area of China Peak. We patrol as volunteer employees and operate as part of the China Peak Ski Patrol. We work side-by-side with the paid patrol staff to create one seamless patrol under the direction of our Patrol Director, Randy Coffman. As a member of the China Peak Ski Patrol, you also will become a member of the National Ski Patrol. As such, you can take advantage of First Aid training through our Outdoor Emergency Care (OEC) program and participate in additional training at the regional, divisional, and national level. There are opportunities through NSP to reach nationally recognized advance levels of skills in first aid and sled handling, such as Senior and Certified designations.

The patrollers of the China Peak Ski Patrol enjoy the camaraderie of a vital group, widely diversified in age, background, and interests. We are strongly connected through our commitment and devotion to the NSP and serving the skiing public at China Peak Mountain Resort.

There's no such thing as a typical ski patroller. Nevertheless, when you hear the words "ski patroller," you probably think of someone performing a mountainside rescue of an injured skier. The facts are, it takes many folks doing there part to make the China Peak Ski Patrol team effective and efficient. Emergency Care is an important part of our purpose and our training, but, it's just one way we help the general public. We educate! We coach! We communicate! We participate! We play a vital role in the success and safety of our guest!

Patrolling requires us to be disciplined, well-organized, to constantly learn, re-learn and fine-tune our patrolling skills and knowledge so that we can provide value to both China Peak Mountain Resort and our guests.

Our goal is for you to become a "confident and effective rescuer". We are delighted to welcome you to both the China Peak Ski Patrol and the NSP.
Tony Atkins
Volunteer NSP Patrol Director